GL-300 Core Drill Rig
GL-300 Core Drill Rig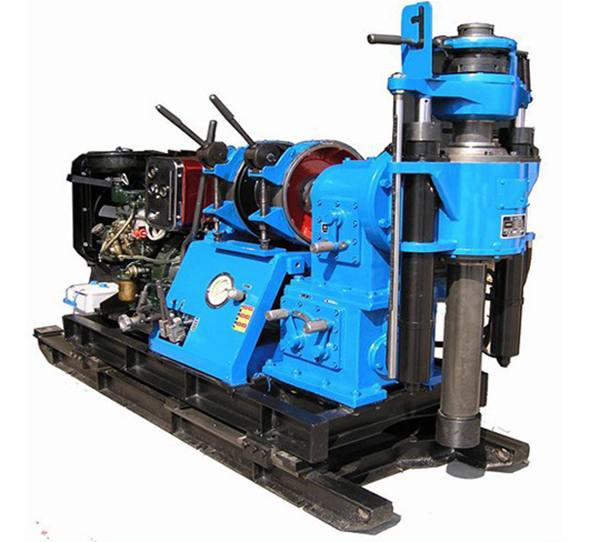 Specifications
drilling machine
1.multi-functions
2.easy to operate
3.high quality
4.reasonable price
GL-300
Core drilling machine
GL-300 Drilling machine is a new type of vertical spindle machine manufactured by Glorytek Industry ( Beijing ) Co., Ltd., for which a diesel engine or motor may be chosen as power. It is primarily used with diamond drill bit or carbide drill bit for the drilling in solid mineral deposit as well as those in engineering geotectonic survey, foundation pile hole and water well hole.
1. Compact mechanical transmission structure, lightweight, vertical spindle for large through hole diameter with hexagonal drive drilling rod, ensured torque transmission.
2. Higher rotating speed and rational scope, adaptable for the drillings with small diameter diamond drill bit or large diameter carbide drill bit and other engineering hole drillings.
3. During the hydraulic controlled feeding process, both the pressure and speed
of feeding can be regulated to meet the requirements of different stratum
drillings.
4. Less and centralized handles, easy operation.
Technical Specifications

Drill

Drill rod dia

50mm

Drilling depth

300/250/200/170/150/m

Initial hole dia

75/110/130/150/200mm

Final hole dia

75mm

Angle range

75°-90°

Dimensions(L×W×H)

1070×1030×1270 (mm)

Weight(without power unit)

750kg

Swivel Head

Spindle speed

Forward

85/125/230/375/560/1000 r/min

Reverse

9 r/min

Spindle stroke

450mm

Spindle lifting capacity

max 45 KN

Spindle pull

down

max 39KN

 

Spindle max.torque

1.7KN.m

Spindle upward moving

max 2.4,4.8m/min

Hoist

 

Reel speed

22/34/62/100/150/270 r/min

Reel diameter

145mm

Hoisting drum linear velocity

0.18/0.30/0.54/0.86/1.3/2.3m/s

Max .lifting capacity (single rope)

20KN

Wire rope dia

9.3mm

Wire rope capacity

35m

Drum dia

252mm

Gate width

50mm

Oil Pump

Type Gear pump

Model

YBC-30/80

Rated displacement

20ML/r

Rated pressure

8Mpa

Rated speed

1500r/min

Power (diesel engine or motor)

Model (diesel engine)

L28N

Rated power

20KW

Rated speed

2000r/min

Model (motor)

Y160L-4

Rated power

15KW

Rated speed

1440r/min