GL-180 Core Drilling Rig
GL-180 Core Drilling Rig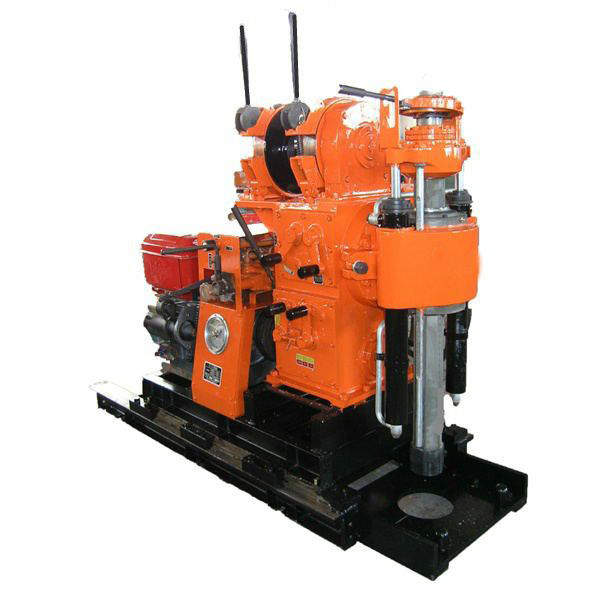 Specifications
1.high efficiency
2.easy operating
3.quick to move
4.high quality
GL-180 Core Drilling Rig
GL-180 Drilling Rig with hydraulic feeding is widely utilized and featured in high
power and hoisting load (2T), large torque transmission, etc. The rotating speed
of vertical hexagonal spindle varies between 71r/min-825r/min. It is suited for
the geotectonic survey, geological core drilling, small hole drillings for grout,
blast and water well in railway, water conservancy, bridge, dam foundation and
other constructions. Diamond drill bit, alloy drill bit and steel roller drill bit are
available for drilling according to different geological structures. GL180YJ and
GL-180-1 are designed on the basis of GL180.
1.With hydraulic automatic feeding device, elevated drilling efficiency.
2.Large torque and drilling diameter
3.With a spherical jaw holding mechanism and the rod replacement without
breakdown, high efficiency
4.Compact structure, small volume, lightweight, high detachability, easy transportation and suitable for the operations in plains or mountain areas.
Technical Specifications
Drill
Drilling depth 180m
Hole dia. 150mm
Drill rod dia. 42mm
Angle range 90°-75°
Dimensions(L×W×H) 1570×697×1360 (mm)
Weight(without power unit) 550kg
Rig traveling device GL-180YJ
Migration distance 350mm
Distance from a drilling hole 300mm
Swivel Head
Spindle speed (4-speed) 71/182/310/790 r/min
Spindle stroke 450mm
Upward displacement speed of idling vertical spindle 0.05m/s
Downward displacement speed of idling vertical spindle 0.067m/s
Spindle pull-down max 15KN
Spindle lifting capacity max 25KN
Spindle max.torque 1.5KN.m
Brake dia. 278mm
Brake belt width 50mm
Hoist
Max .lifting capacity (single rope) 20KN
Hoisting drum linear velocity (two levels) 0.172/0.345/0.738/1.476m/s
Hoisting drum revolution 20/39/85/170r /min
Drum dia. 140mm
Wire rope dia 9.3mm
Wire rope capability 40m
Oil Pump
Model YBC-12/80
Rated pressure 8Mpa
Displacement 8ml/r
Rated speed 1500r/min
(GL180-1) Water Pump
Model Horizontal reciprocating single-acting piston pump
Displacement max 95 (77)L/min
Working pressure max 1.2Mpa
Rated pressure 0.7Mpa
Liner dia. 80mm
Piston stroke 100mm
Power (diesel engine or motor)
Model (diesel engine) ZS1110
Rated power 14.7KW
Rated speed 2200r/min
Model (motor) Y160-4
Rated power 11KW
Rated speed 1460r/min