XY-1A core drilling rig
XY-1A Core Drilling Rig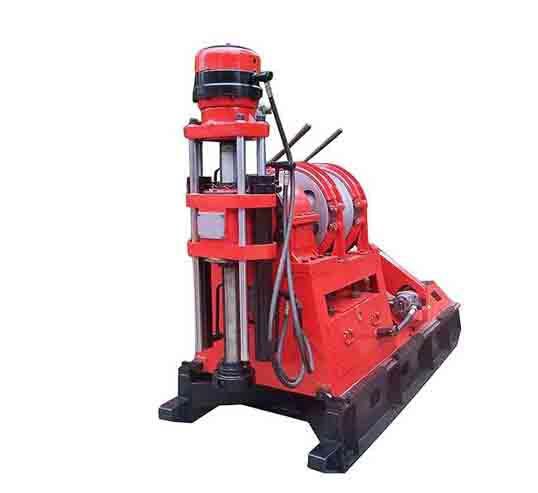 1.Compact structure,
2.light weight,easy move
3.high efficiency
4.reasonable price
XY‐1A Core Drilling Rig
is a light type machine at high speed with hydraulic feeding. XY‐1A and XY‐1A‐1 are designed on the basis of XY‐1A.
Applications:
1. Drillings for the general exploration and investigation of solid mineral deposit,
engineering geotectonic survey and concrete structure inspection holes.
2.Diamond drill bit, alloy drill bit and steel roller drill bit and so on are available for
drilling according to different geological structures.
3.When the final holes are respectively 75mm and 46mm in diameter, the rated
hole depths are separately 100m and 180m. The maximum of depth may not exceed
110% of that drilled in each hole. The maximum allowable hole diameter is 150 mm.
Features:
1.With hydraulic feeding device, elevated drilling efficiency, reduced labor strength.
2.The rig is equipped with an upper spherical jaw holding mechanism and hexagonal
drive drilling rod which can be replaced without shutdown, high efficiency, safe and
reliable.
3. A hole bottom pressure gauge is mounted indicating the pressure in order to
control the status inside the hole.
4.Compact structure, small volume, lightweight, high detachability, easy transportation and suitable for the operations in plains or mountain areas.
Technical Specifications

Drill
Drilling depth 100/180 m
Initial hole dia. 150mm
Final hole dia. 75/46mm
Drill rod dia. 42/43mm
Angle range 90°‐75°
Dimensions(L×W×H) 1620×970×1560(mm)
Weight(without power unit) 620kg
Migration distance 350mm

Swivel Head
Spindle speed(5‐speed) 1010/790/470/295/140r/min
Spindle stroke 450mm
Upward displacement speed of idling vertical spindle 0.05m/s
Downward displacement speed of idling vertical spindle 0.067m/s
Spindle pull‐down max 15KN
Spindle lifting capacity max 25KN

Hoist
Max .lifting capacity(single rope) 15KN
Lifting rotating speed 121/76/36r/min
Hoisting drum linear velocity (two levels) 0.166/0.331/0.733/1.465m/s
Drum dia. 140mm
Wire rope dia. 9.3mm
Wire rope capability 35m
Brake dia. 252mm
Brake belt width 50mm

Oil Pump
Model YBC‐12/80
Rated pressure 8Mpa
Displacement 8ml/r
Rated speed 1500r/min

Power (diesel engine or motor)
Model (diesel engine) S1100A2
Rated power 10.3KW
Rated speed 2200r/min
Model (motor) Y160M‐4
Rated power 11KW
Rated speed 1460r/min

Mud Pump
Model Horizontal reciprocating single‐acting piston pump
Displacement max
Equipped with diesel engine 95L/min
Equipped with motor 77L/mm
Allowable working pressure max 1.2Mpa
Continuous working pressure 0.7Mpa
Suction pipe dia 32mm
Discharge pipe dia 25mm